As we go into the next decade, many men are looking for advice on how to better support their non-cis-gendered employees, coworkers, neighbors, friends, and/or family.
Editor's note: I wrote this post in the first weeks of 2020, but didn't publish it for six months. It feels simultaneously out of date and yet still full of relevant advice as I publish it now, in July.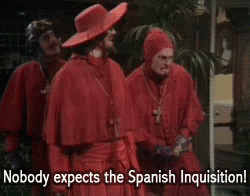 New Years' Eve
I only went to one NYE party this year. It was nice to catch up with a few friends… but I did not expect a gender inquisition!
It's been a while since those acquaintances last saw me, and I guess they had a whole lot of ideas about gender, trans*rights, and allyship that they just had to ask me …
In light of that evening's conversations (which I quote throughout this article), I have compiled a list of things you can do to be a better ally to the trans* people in your life.
I humbly offer this post that it may provide some benefit to the world.
May the 2020s be a more inclusive and equitable decade than the one that came before, and may that growth ease the suffering of people of all genders and sexualities.
🙏
Read More »

Being a Better Ally: 2020